This lately, i found myself malas nak hantar post dah.macam takde semangat.Macam mana ye??...;(
No mood ... no idea... laziness, don't tell lar...
The Annual Geological Conference 2004
(i'm not the participaters, but my father was).
Location:kangar,perlis
...
- Nothing much to do. Bila, ayoh ada meeting, kitorg lepak dalam bilik, tido + tv + novel..Bab makan is da best. Eat to da fullest beb!
-Saturday: An activity than already been set this day which is fieldtrip activity. All of the members were going, and we were convoing.It's all about 10 cars + jeeps...Bile masuk kampung je, it's like famous ppl, everybody were looking at us.hahaha~ they were wondering.
The first place we went was Gua Kelam...Inilah jumlah rombongan trip kali ini..ramai! This is before we entered 'The Cave of Darkness'.Untuk kitorang free je, no charging.hehehe~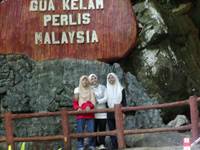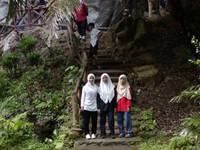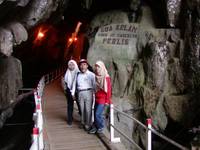 Gua Kelam, tapi tak berapa kelam laa, siap ada lampu lagi dan laluan titi is also provided.Tak thrill langsung.huhu...
The scnd destination was dusun durian own by one of the member..The one who wearing hat with yellow dress is the one. Praising al-fatihah for his arwah ayah who was the real owner of the dusun.Masyuk sungguh memulun durian di dusun durian.Tanx to Pakcik...God bless you.
Ramai ek? This picture took before 'eating durian ceremony'.....everybody didn't wait any longer, habis je ucapan daripada yang berkenaan, terus menerpa ke arah timbunan-timbunan durian yang ada.Wahaha~
Lepas kenyang perut, the next destination is kem tentera, Oran. Lokasi di mana kejadian lubang benam (sinking-hole) berlaku 2 - 3 tahun dahulu... struktur tanah retak. Alhamdulillah, tiada kemalangan jiwa berlaku...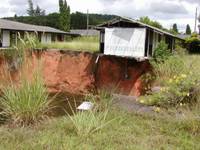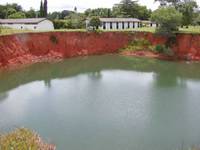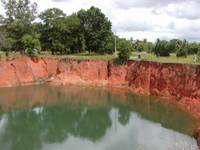 -Erm, kalau dah sampai di Perlis, tak sah ler tak pergi membeli-belah di Pdang Besar kan?? But, me nothing much to buy....Tired some~