Yeah.. semalam menghadiri majlis perkahwinan abang Cinot [actually, diorang dah agak lama bernikah,tapi majlis perkahwinan belah lelaki ni baru dibuat]...Before this, tak pernah lagi aku kenal abang-abang Cinot [aku gambarkan mesti hensem, pasal adik dia pon lawa], dan jangkaan aku tepat. What a great couple there are...cun! Majlisnya cukup sempoi..tapi perfect lar, siap ada penyanyi upahan [haha~ apakah ayat aku ini?] Jangan memain...itulah 'Suara-suara Otai' namanya...Lagi menarik perhatian adalah kehadiran actors tempatan macam.. M.rajoli, Sharudin Tambi and Nasir Bilal Khan.And of coz pengarah filem, Adman Salleh pon ada. He is the 'mastermind' of all these..heh..
But, the most wonderful and memorable thing is, the chance for us to meet after a long-time-no-see... Cik + Fecky + Fadhilah + Fulana + Elysa were there.We planed together to be there...and, that's not it. Awab [:p] + Goco + Matdan + Rino were there too..sempat gak bergambar kenangan...really sweet~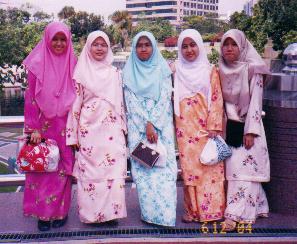 sempat lagi round klcc park..dah ler sumer sakan berbaju kurung..Orang tengok pun pelik.hahaha~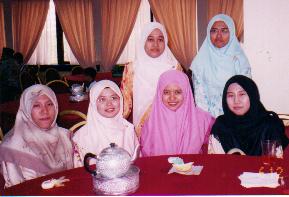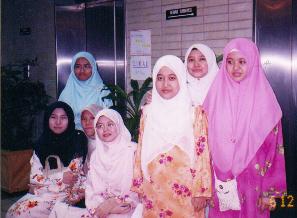 Masing-masing dah nak berangkat pulang...Cin asal nyorok kat belakang? oh, tak menyempat nak bergambar dengan brothers..depa dah blah dulu..
**Ntah pape la, gambar pengantin takde..gambar kita orang je lebih...kepas rindu ar. Jarang giler jumpa Cik, Fadhilah, Fulana, Elysa...very sweet moment!